Designing and Building some EPP Flying Wings !
admin
With all the new Super awesome EPP Foam Blocks that we got in stock, I want to build some EPP Flying Wings.
EPP Foam is great because :
A. Its strong yet flexible. So it doesn't shatter and break easily. Can make very resilient planes that can take a beating
B. Its pretty light, and cuts with a Hot wire very neatly.
C. Its CA Friendly ! Yes ! Makes the builds very fast and light.
My Idea is to build 3 or 4 sizes of wings :
A. Micro Size : ~ 600mm Wingspan
For fun flying , light and small , maybe do some FPV too. I havent yet built such a small model yet but pretty inclined to do so now ! This would probably take one of those small Drone racer motors and use ~ 700-1000mah Lipo
B. Standard Size: ~ 1000mm Wingspan
This would be probably be the "standard" RC plane that will probably take the  28XX Motor, 2200mah Lipo and some FPV gear.
C. Large Size : ~ 1400-1500mm Wingspan .
For long endurance FPV, aerial Photomapping, lots of space for RC electronics, cameras, autopilots, pizzas and all .
Here's a graphic I posted on Facebook today, lot of work that will be done in the next couple of months, in designing, building , test flying, improving, rebuilding, flying and finally coming up with models we can list on our website.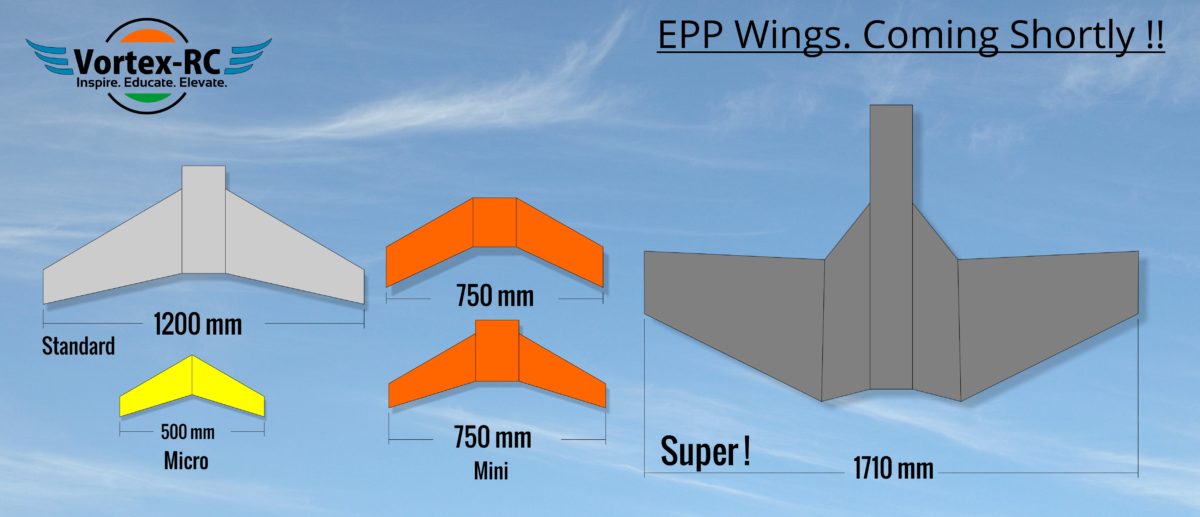 Flying Wings are awesome to fly. They are easy and quick to build, a breeze to fly ( when properly, usually pretty efficient, and small ones are incredible fun to fly around.
Though I have an extensive experience of designing and building Flying wings, whenever scratchbuilding, I start off with drawing the panels, and usually cross reference against one of the proven planes. In this case, I checked my layouts against:
– Ritewing Zephyr 2 and Zephyr 3 ( which I own and are terrific ) ,
– Vortex-RC Speedster and Speedster Pro ( our very own models )
– Ritewing Drak
– Multiplex Funjet
The more I look, the more I am tempted to experiment, build and test fly all of these.
Of course when designing I have to also take in consideration that i have 50MM blocks, and I need to optimise for, and also their size 1000x1200mm to avoid any wastage when we go into production.
Here's how my scratchboard looks like when i am thinking about what to build !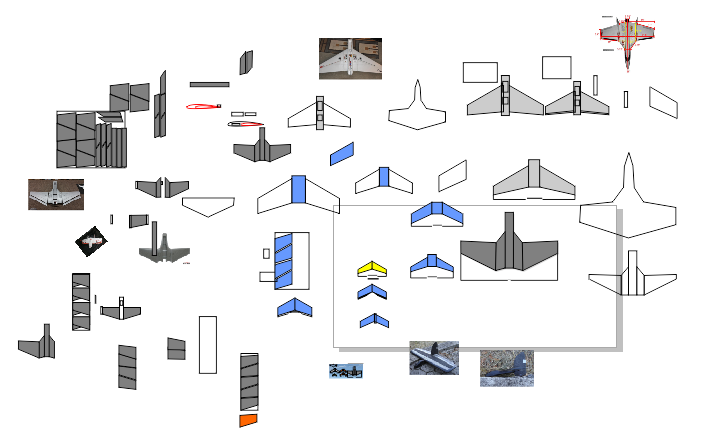 For a flying wing, there are 4 Very important Parameters :
1. Wingspan .
2. Root Chord.
3. Tip Chord.
4. Sweep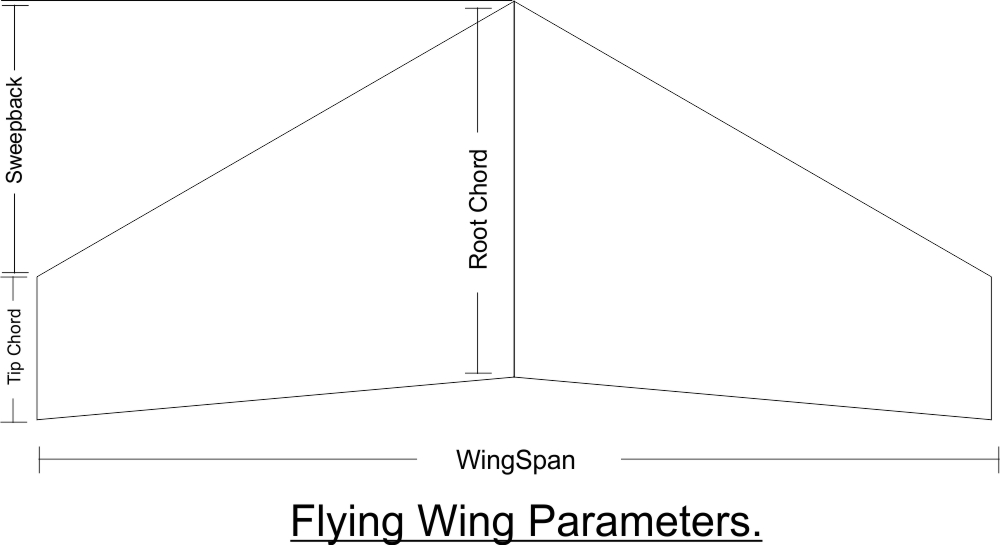 These parameters determine not only the flight characteristics, but more importantly, the location of Center of Gravity (CG).
The CG of a Flying is extremely crucial, as the wings are absolutely unforgiving, if they are not balanced properly.
The best Tool for calculating the CG is available at : http://fwcg.3dzone.dk/
This tool takes in all the above parameters and gives the CG location which is pretty accurate and is a good starting point for first flights.
As the sweepback is increased, the CG shifts backwards. Thats the reason why Multiplex Funjet and Ritewing drak have so less sweepback ( Drak actually have forward sweep ) . This makes doe CG go up in the front, allowing more batteries and gear to be placed.
Lets go build the first plane . a 600MM Wingspan Mini Flying wing. Continue Reading here .