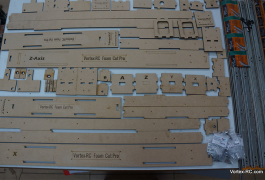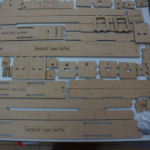 4 Axis DIY Hot wire CNC for RC Hobbyists, Aeromodellers and Designers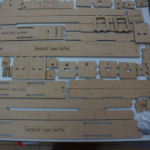 4 Axis DIY Hot wire CNC for RC Hobbyists, Aeromodellers and Designers
₹26,500.00
₹26,500.00
Build a fully functional DIY 4 Axis CNC to cut custom airfoils, fuselages, shapes, letters etc on foam. Cut any one of the thousands of airfoils precisely. Our kit includes precision laser cut interlocking parts that assemble together quickly for a fully functional 4 Axis hot wire CNC system.
Description
Additional information
Description
4 Axis DIY Hot wire CNC for RC Hobbyists, Aeromodellers and Designers.
Did you ever wonder, if you could convert thermocol, styrofoam, EPS, EPO, XPS foam available as packaging , or insulation, or in form of blocks or sheets into beautiful RC airplane wings ?
Or cut that custom airfoil that gives the best glide time for your college project ?
Or cut foam cores that could be used for Vacuum bagging and build that extra neat UAV Carbon fiber wing.
Or be a star amongst your local flying club to give out custom airfoils to fellow friends and fliers .

Clark-Y Airfoil cut using our 4 Axis DIY Hot wire CNC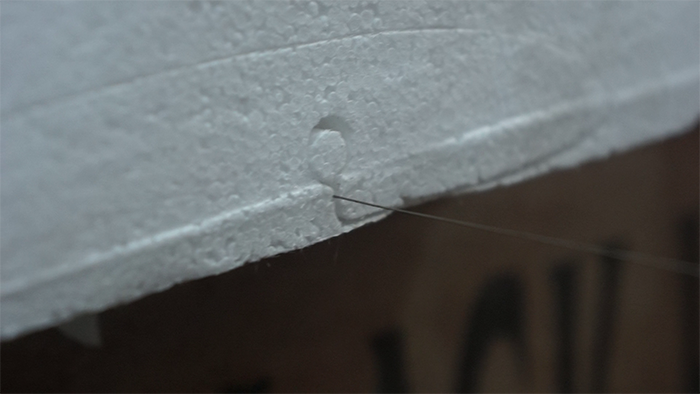 Cutting Spar Holes using our 4-Axis Hot WIre CNC
| | |
| --- | --- |
| | |
| Live View of Cutting process | Full Mach3 Support |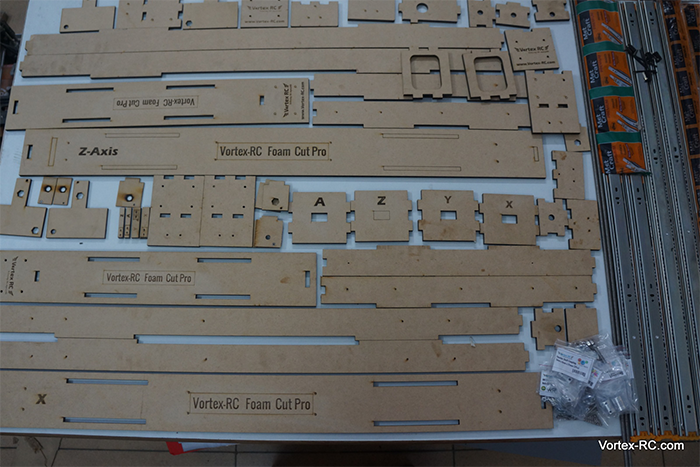 Kit Includes Laser cut Precision Interlocking Parts and Complete Hardware for the build.
| | |
| --- | --- |
| Assembles to form the full 4 Axis CNC. | |
Bring an end to buying expensive foam wings, and also to manual hot wire cutting and start making RC model wings professionally and easily using our DIY 4 Axis Hot wire CNC.

Our DIY 4 axis CNC Hot wire foam cutter is ideal for aeromodellers, RC enthusiasts, it lets you cut your choice of airfoil, complete with spars and all into your choice of foam, effortlessly, and with extreme accuracy in minutes.
Features:
World's First DIY 4 Axis Hot wire Foam CNC kit under $500
Full 4 Axis CNC operation – Cut almost any airfoil, Tapered wings and Fuselage sections in foam easily.
Full Mach3 Compatibility allows for the most flexible/universal computer/software integration
Compatible with Profilii, DevFoam, DevFoamPro etc
Can cut Letters, designs, shapes, logos, signages in foam, only creativity is the limitation !
High quality Laser cut precision interlocking parts ensure accuracy , precision, mechanical rigidity and durability.
Double Nut design reduces backlash and yet keeps the cost low.
Precise to more than a hundredth of an inch
Cuts EPS, XPS, EPO and EPP foam types easily.
Constant Current Hot wire controller ensures regulated wire temperature irrespective of the wire length and temperature. *
Digital Voltage and Current readouts of the hot wire Voltage and current *
Uses High quality Stepper Motors, drivers, controllers and components. *
Equipped with Limit switches on each of the 4 axes.*
Free access to our library of over 100 commonly used airfoil GCodes**
*Applicable to kits with Electronics.
** Coming Soon.
Technical Specifications:
750MM X/Z Axis movement
440 MM Y/A Axis Movement
Accuracy: 0.1MM
Variants:
1. Basic Kit with no electronics: 15,500/-
This is a complete DIY Kit, that will enable you to assemble your 4 axis Hot wire CNC and includes all the laser cut parts, and hardware but does not include any electronics. Our build video is a perfect guide that shows step by step assembly instructions.
Kit Includes:
Complete Laser cut Precision Interlocking MDF parts.
Threaded rods, Drawer slides,
Complete set of High quality Stainless steel Nuts and bolts.
Helical couplers and Limit switches.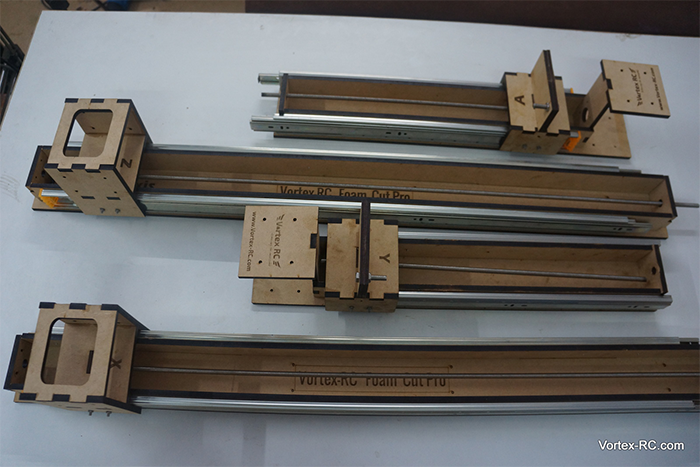 Basic Kit will allow you to assemble the 4 Axises as above, without any electronics.

If you purchase this kit, you will require at least :
4Nos. Nema 17 Stepper motors, 4 stepper drives, Power supply, and a CNC breakout board to start operating the machine.
2. With electronics : 26,500/-
– Coming Soon
In addition to the complete DIY kit above, this variant includes complete electronics to get you running ( except of course a computer ! )
This is still a DIY kit, and will require you to assemble your machine. So much fun in making pieces of wood form a fully automated wing making machine . Learn all the way ! A perfect summer or winter project to do !
Kit Includes:
All of the Hardware as in the Basic Variant Plus :
4Nos. Nema 17 Stepper motors, stepper drives, Power supply, a CNC breakout, Digital Voltmeter/Ammeter , Hot wire voltage regulator, connectors, cables plus a custom acrylic enclosure for the electronics.
| | |
| --- | --- |
| | |
| Custom Electronics enclosure for electronics | |
3. Fully assembled, tested and ready to use : 29,950/ –
– Coming Soon
Ok for those, who are short of time, this variant gives you a fully assembled tested machine, which will be require no assembly ( except for tightening around 8 bolts, and plugging in a few cables ) and will get you started with your machine in less than an hour !
All electronics and hardware included. Only required is a computer with a parallel port running Windows 7/XP 32 Bit.
FAQs:
1. What is a 4 Axis Hot Wire CNC and what can it be used for ?
A Hot wire CNC uses a hot wire to cut foam, andthe wire is driven using stepper motors, which are driven by a computer.
End result ? You can cut any airfoil, or design, precisely and accurately. Does not require any templates, and the speed of the wire is maintained constant by the computer to the panels cut are absolutely professional.
2. Why so less, when other similar kits comes 4 times as much ?
Because, we have used many smart/innovative ways to reduce the costs:
-We have used mass produced drawer slides instead of expensive linear guides and rails ( which costs 10x as much.
-We have used a double nut mechanism that reduces the play and backlash, and yet is many times cheaper than a ball screw.
– We have used a unique interlocking design that makes the entire frame rigid, sturdy and durable.
3. What Softwares do I need to use this machine.
You will require Mach3 Software to run this machine. This can be downloaded from the Mach3 Website. In addition you will need a software like Profilii to generate the G-Codes, OR use our upcoming library to download/generate G-Codes for popular airfoils.
4. What Computer Hardware do i need to use this machine.
You will require a Personal Computer running Windows 7/XP 32Bit with a parallel port to operate this machine. This is a requirement of Mach3 software. Consult their website for more details.
5. I am new to CNC. How do i get started ?
Welcome to the enchanting world of CNC. You will remember the day when you will cut a piece of scrap foam to cut out a beautiful airfoil.
Start by watching our build videos to see how to assemble the kit.
Then Download/install Mach3 software, and watch their tutorials to understand the application.
Configure your machine with the instructions as given in the manual
Cut out a test airfoil, using our sample GCode
6. Why 4 Axis ?
One is a X-Y Axis and the other set is a Z-A Axis. This enables you to cut tapered wings, or wings where two different airfoils are used on the same panel on each side, This gives the ultimate flexibility in hot wire cutting.
A 3 Axis hot wire cutting machine will not let you cut tapered wings,
7. What Types of foam can be cut ?
This is easy. Anything that can be cut using a hot wire, can be cut using this CNC. The temperature of the wire and speed may need to be set differently, but all types of EPS, EPO, EPP, XPS etc foam can be easily cut.
8. Whats the durability of the machine
At Vortex-RC there have been days, where we have cut huge blocks of foam continuously for 12 hours a day using this CNC. Its has been two years since we have been using this CNC. and have cut over 500 panels, and hundreds of sheets using this CNC. If built and operated correctly, your CNC will cut thousands of airfoils easily.
9. Drawer Slides, threaded rods and a wooden frame ? Are these accurate enough ?
A Hot wire CNC is different from regular router/milling CNC. In a hot wire CNC, the wire does not touch the foam , and the foam is cut using the radiant heat of the wire. What this means is that during the cutting process there is wire little mechanical load on the frame of the machine. On the other hand a router/mill drags the bit across the part, wherein a lot of mechanical rigidity is required, which justifies use of mild steel, aluminium , cast iron frames.
To reduce the backlash in a threaded rod, we have used a double nut design. This nearly reduces all of the backlash/slop from the assembly.