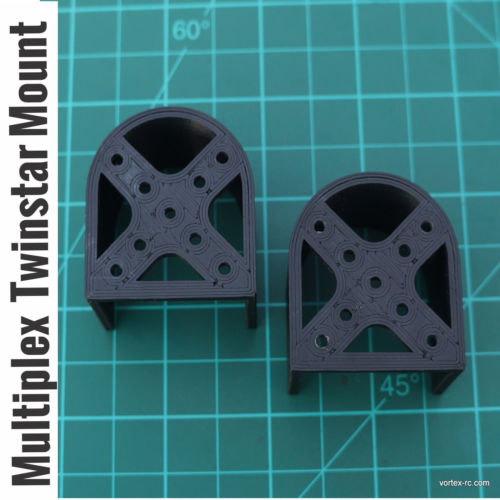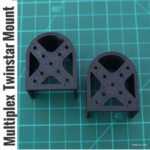 Multiplex Twinstar II Brushless Motor mounts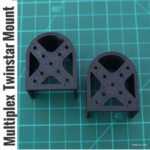 Multiplex Twinstar II Brushless Motor mounts
Replacement Motor mounts for Multiplex Twinstar II airplane. Designed to fit most standard brushless motors . Custom designed and 3D printed in ABS plastic
Description
Additional information
Description
Multiplex Twinstar II Brushless Motor mounts
Multiplex Twinstar II is a beautiful RC airplane. Very stable and docile yet packing lots of zippy action and FPV fun. However the stock kit comes with DC Brushed motors which are severely underpowered and inefficient and the motor mount is very fragile and difficult to use with brushless motors ( lots of cutting and modifications )
We designed completely new Twinstar II motor mounts and have 3D printed them in tough ABS plastic. Our motors mounts are designed to replace the Original Twinstar II motor mounts and features:
– Much stronger / beefy built than the stock mounts. – Is designed to fit nearly all popular brushless motors of can size upto 28mm (2822, 2812, 2212 etc )

 

– Standard Cross mount holes 34MM and Motor holes 16x19mm allow for multiple motor mounting options.
– Our motor mounts are designed for Outrunner brushless motors, however can be reversed and installed for Inrunner motors

 
These motor mounts can also be used as replacements in case of a crash, as they fit in snugly inside the Twinstar II nacelles.
Designed by Gaurav, who has hundreds of hours of flying experience on Twinstar, this motor mount, is 3D printed in the highest quality tough ABS plastic and is many times stronger than the original mount plus allows easy installation of Brushless motors. This motor mount set is perhaps the must-do upgrade on any Twinstar II build.