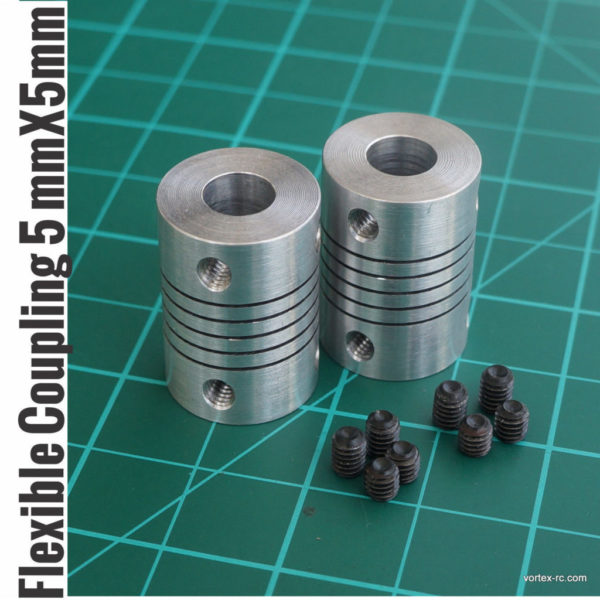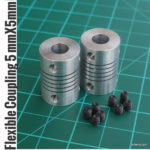 Aluminium Flexible Coupling Coupler Helical Shaft Couplings 5mm*5mm*25mm (2Pcs)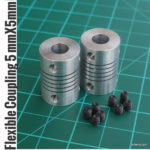 Aluminium Flexible Coupling Coupler Helical Shaft Couplings 5mm*5mm*25mm (2Pcs)
₹253.00
₹253.00
3D printer Stepper Motor Flexible Coupling Coupler /Shaft Couplings 5 mm*5mm*25 mm (2Pcs)
Description
Additional information
Description
3D printer Stepper Motor Flexible Coupling Coupler /Shaft Couplings 5 mm*5mm*25 mm (2Pcs)
Our Precision made, High Quality, Aluminium Helical Shaft coupling is used in 3D Printers, CNC machines and other DIY projects to couple Stepper motors and M5/5MM rods /threaded rods / precision trapezoidal rods and also to join to 5MM Linear shafts together. The coupler takes care of small misalignments, deviations and twists in the system. Our coupling comes with 4 grub screws installed. One package consists of 2 couplers. Please note that the bore diameter of this product is 5MM and 5MM. See specifications below for more details.
Specifications:
Material: Aluminium

Bore Diameter d1: 5MM

Bore Diameter d2: 5MM

Length: 25MM

M: M3 Set Screws 4Nos per coupler.

Outer Diameter Od: 19MM

Qty: 2 Flexible couplers per package

Also known as: Beam coupling, helical coupling, Flexible coupling.
Note: A beam coupling, also known as helical coupling, is a flexible coupling for transmitting torque between two shafts while allowing for angular misalignment, parallel offset and even axial motion, of one shaft relative to the other. This design utilizes a single piece of material and becomes flexible by removal of material along a spiral path resulting in a curved flexible beam of helical shape. Since it is made from a single piece of material, the Beam Style coupling does not exhibit the backlash found in some multi-piece couplings. Another advantage of being an all machined coupling is the possibility to incorporate features into the final product while still keep the single piece integrity. Changes to the lead of the helical beam provide changes to misalignment capabilities as well as other performance characteristics such as torque capacity and torsional stiffness. It is even possible to have multiple starts within the same helix.