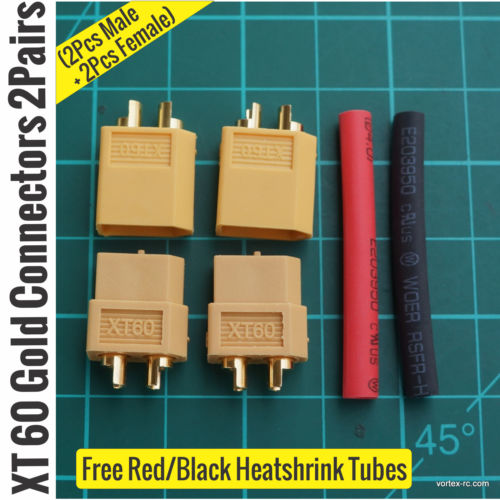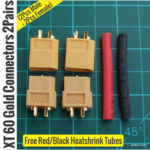 XT60 Gold Connectors 2Pairs (2Pcs Male + 2Pcs Female)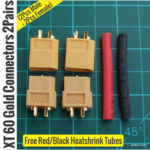 XT60 Gold Connectors 2Pairs (2Pcs Male + 2Pcs Female)
₹149.00
₹149.00
2Pcs Male + 2Pcs Female XT60 Gold Connectors. Included Heatshrink Tubing for making perfect and professional looking connections.
Description
Additional information
Description
Premium quality XT60 Gold Plated Connectors Male/Female pairs 2 Sets. (4Pcs)
Made from high-temp Yellow Nylon and gold plated spring connectors, both included in the injection mould at the time when forming the connector. The XT60 ensures a solid high-amp connection, perfect for applications up to and beyond 65A constant.
Designed by hexTronik to be more reliable and a better quality connection than Deans T-Connectors.
There is no patent on the XT60 connector, we hope this product is sold everywhere in the world and dominates the market, reducing customers dependency on the over-priced Deans T-connector.
Say 'No' to the Deans Connector profiteers, and use XT-60's! 
We stock only High quality connectors that can be reliably used. High quality Nylon resists any sort of deforming and GOld plated connectors assure of a low resistance connection. 
This package contains 2Nos. male and 2 Nos Female XT60 connectors. The Female connectors are commonly used on the Battery / Power Source end and the Male connectors on the ESC/Speed Controller end. 
Designed to be used with RC planes, drones, DIY projects, radio controlled airplanes, multicopters, quadcopters and other flying toys. 
FREE ! 10Cm each of Red and Black 4MM High quality Heatshrink tubes .
Heatshrink tubes are needed to insulate/protect the open soldered connections on the connectors. Stop using tapes and leaving connections dangerously open. @Vortex-RC we are committed in providing "complete and thoughtful" affordable packages that help you shop and build RC projects affordable and efficiently. Buy with Confidence – This product has been tested, used and approved by the best in the hobby.
Specifications
Plug Type : XT60 Male/Female 
Material: High Temp Nylon. Gold plated connectors 
Color: Yellow 
Current Rating: 60 Amp 
Quantity: 2 Nos. Male and 2 Nos Female. 
Total: 4 Pieces per package. 
Heatshrink Tubes: 
Black 4MM 10Cm Polyolefin. Shrink Ratio 1:2 
Red 4MM 10Cm Polyolefin. Shrink Ratio 1:2