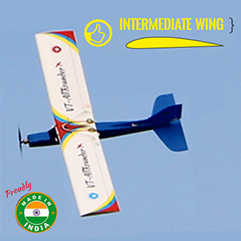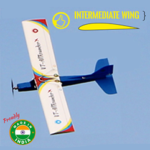 VT-Allrounder with Intermediate wing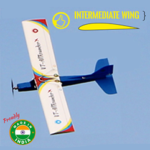 VT-Allrounder with Intermediate wing
₹1,900.00 – ₹4,225.00
₹1,900.00 – ₹4,225.00
VT-AllRounder Intermediate comes with the Intermediate wing. Has Semi Symmetrical airfoil and is designed to be flown as a 4 channel airplane. Ailerons can be driven by single or dual servos. Can do basic aerobatics and is sporty and crisp airplane to fly around.
Description
Additional information
Description
Our New Version VT-Allrounder V4 Available Now

VT-Allrounder is an affordable, versatile and durable RC (Radio Controlled), electric trainer airplane, that, with its interchangeable wing design, excels as a 3 channel trainer for first time fliers, introduces ailerons to intermediate fliers and also provides a fully aerobatic platform for advanced fliers. Proudly, designed and built in India, VT-Allrounder is the perfect RC model for the young and the experienced alike and is easy, reliable and lots of fun to build and fly.
Unique Interchangeable wings
Our innovative wing mount design allows you to interchange wings and use the same airplane as a 3 channel trainer, intermediate and advanced aerobatic flier.
Same airplane – 3 different wings provide a broad flight envelope.
Precision Laser/CNC cut parts
High quality CNC Laser cut parts and an interlocking design leads to strong, lightweight construction. Tight, interlocking,precise notches lead to the use of minimum glue, keeping the airframe as light as possible.
Designed with love
Designed, developed, and built in India with a lot of love . The VT-Allrounder was designed from scratch, particularly for the Indian aeromodellers, and we went to all lengths to make the the airplane easy, durable and fun to fly.
Its a Perfect RC Trainer
VT-Allrounder excels as a first time RC trainer – the airplane is predictable, and slows to a crawl, with a gentle stall, helping learn basic flying skills. With the Expert wing, this is the perfect aerobatic trainer which will help you learn and master intermediate and advanced aerobatic maneuvers.
Airfoil wings
Airfoiled wings are much superior to flat wings. They are more efficient, aerodynamic and have superior flight characteristics. All our wings are precision CNC cut and we have used the world famous RC airfoils like Aquilla, Clark-Y and others.
Autopilot and FPV ready
We know how many of you want to move on from traditional RC. Ample space under the CG allows you to mount various autopilot systems, and FPV gear . Our new custom hatch replacement allows for easy installation of FPV gear. The fuselage is also wide enough to accommodate almost all of the available AP systems.
Ready to fly in < 4 hours
VT-AllRounder can be assembled and flown in less than 4 hours of build time. The ARF series can be made ready to fly in less than 1 hour. Put on some music, read and follow our manual and in no time you will be ready to fly !
Well stocked cheap replacement parts
Broke a part of the plane ? No worries. Just order a spare ! and yes its super cheap. Replace entire fuselage, wings, and other parts at a fraction of the cost. We made sure
Shipped for Indian conditions
We know Indian couriers and their handling very well. VT-Allrounder is packed specially so you will receive the kit in the way we wanted you to get them. Wings are shipped in their extra thick wing beds, and boxes built durable enough to take the abuse of Indian shipping cos.
Uses Coroplast and high density EPS foam
Coroplast is light, and resilient to crashes. It will bend, but will not break . Can also be easily straightened and uses CA as adhesive making the build very light. VT-Allrounder wing cores use high density EPS foam, which have a superior strength and yet are very lightweight.
Low wing loading
Know the most important factor that determines how good a model airplane flies ? Wing loading. The lighter the wing loading, the better the model flies. We boast of a wing loading as low as 10 oz/ft2 . Perhaps the best you can get. For comparison the popular Great Planes PT 40 has a wing loading of 20 oz/ft2 .
Bye Bye landing gear .
Hello Skids!
Years of our experience had led us to understand that landing gear on small model electric airplanes are prone to failures and damage fuselage, by concentrating the landing stresses, more often than not. We have replaced the gear with the specially designed skids. Easy to launch and and, you no longer need a runway to fly !
Detailed instructional manual and videos
Tired of hard to read, self-assuming Chinese manuals ? VT-Allrounder comes with a detailed illustrated instructional manual, and videos in clear English, showing the build. The manual is specially written so that groups of students can build together, useful in workshops. In addition, useful tips help you develop your build skills as you read and follow through the manual.
Ultra Low cost
Unbelievably low cost makes VT-Allrounder super affordable to newcomers, college students and first time fliers. Our goal of making the hobby popular has ever been more important enough. We went to all lengths to source local materials to keep the costs low, but never at the expense of flying characteristics.
Kit includes extras
When putting together the kit, we kept 'You' in mind. Tapes, adhesives,battery straps, even sandpaper, and colored tapes are included in our kit. We know how tough it can be to go hunting for small stuff in our local markets. So we put it all in there. Even our electronics package includes heat shrink tubes and connectors. All you need is some basic tools, and a clear flat workbench to build.

Specifications:
Fuselage length: 780 mm
Wingspan: 1450 mm
Wing-area: Trainer: 465 sq in. Intermediate: 465 sq in. Expert : 395 sq. inches
Recommended All out Flying weight:
Trainer : ~650gms Int/Expert Wing : ~750 gms.
Wing loading: Trainer: ~7 Oz/Sq. ft. Int: ~8Oz/Sq. ft. Expert : ~9 Oz/Sq. ft.
CG Location: 65MM from Leading edge at Root. Spar location.
Standard Kit Includes:
1 Nos. Laser Cut Coro Sheet (A, B, C, D, Rudder & Stabilzer)
1 Nos. CNC Left Wing Foam Panel w/wing bed
1 Nos. CNC Right Wing Foam Panel wing bed
2 Nos CNC cut Foam wing adapters (Optional)
2 Nos. Aluminium T- Spars
1 Nos. CA Adhesive
1 Nos. 5 minute Epoxy
2 Nos. Lamination Sheets
1 strip Fiberglass adhesive sheet
Control Horns (2 Nos. Trainer. 4 Nos. Intermediate & Expert)
Clevis ( 2 Nos. Trainer. 4 Nos. Intermediate and Expert )
Pushrods ( 2 Nos Trainer. 4 Nos. Intermediate and Expert )
2 Nos. Rubber Bands
3 Nos. Laser Cut Dihedral Brace
(Not included/required in Expert Wing)
2 Nos Wooden Spar Joiner Dowels
( Only for Expert Wing )
1 Nos Laser Cut Firewall A-1, Former B & C, Servo Doublers and Windshield
2 Nos. Aluminium Wing Holding rods
1 Nos Battery Strap
4 Nos Machine Screws
1 Nos Velcro Hook and Loop Material
1 Nos 320 each Grit Sand Paper strip
1 nos. Hobby Knife
1 Nos. Decal Sheets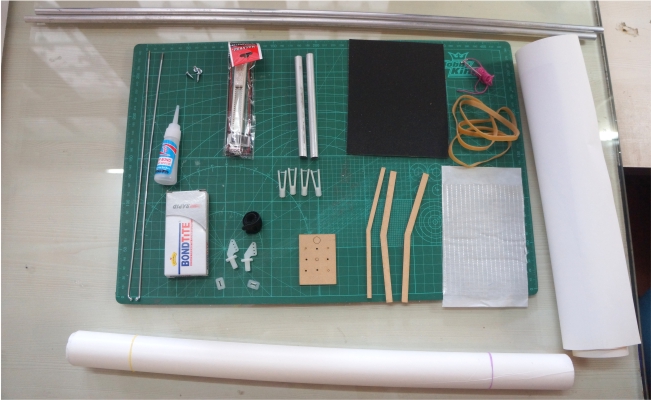 Electronics Package (optional) includes:
3 Nos. 9 gm Servos
1 Nos. 18Amp Brushless ESC (Speed controller)
1 Nos. 2822 1200KV Brushless Motor
3 Pair 3.5mm Bullet connectors
1 Nos. XT60 Male Connector
1 Nos. Balanced 9×4.7 Propellor
15cm Servo Extension wire
(1Nos Trainer, 2 Nos-Inter..3 Nos-Expert)
Y-Cable (For Expert Wing only)
1 Nos Prop Saver with Rubber Bands
3 pairs Heat Shrink Tube Red and Black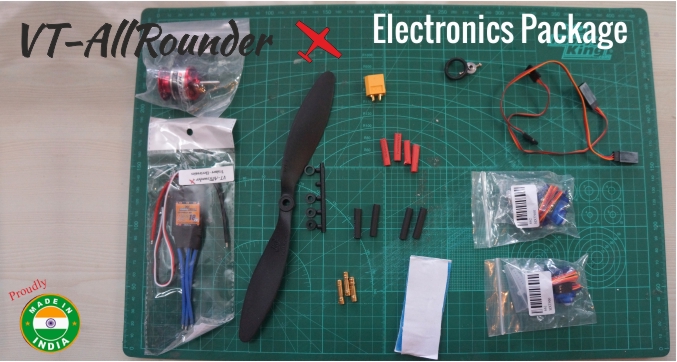 Requires:
2200mah 3S Lithium Polymer Battery
1 Nos Lithium Polymer Battery Charger.
4 Channel or above radio set ( Tx and Rx )
Our New Version VT-Allrounder V4 Available Now
Three in one Interchangeable Wing Design
Innovative wing design allows you to swap wings on the airplane.
Trainer Wing:

No Ailerons needed (3 Channel)

Perfect Trainer airplane

Self recovering
A proven high lift trainer airfoil, Aquila airfoil, lets you fly the airplane with only 3 channels.

High lift and low wing loading ensures the plane flies as slow and predictably as possible aiding in quick learning . This wing has proper amounts of dihedral and washout which gives excellent self recovery characteristics and also ensures the airplane does not speed up in dives which aids in learning. Self recovery design means that you let go of the sticks and the airplane will level out by itself*.

First time builders and flyers for RC airplanes.
Beginners to learn basic flying skills and to build confidence.
Specially designed trainer airfoil with high lift/drag to allow for slow, predictable flight.
School, College students looking for a first time RC model.
Affordable. Uses just 2 Servos for control.
Can be flown in small fields, parks and grounds.
Intermediate Wing:

World Famous Clark-Y airfoil

Ideal aileron trainer

Can do aerobatics
The intermediate wing features one of the most famous airfoils known in RC history – The Clark Y airfoil. Known

for its ultra stable, smooth, and sporty characteristics, A semi symmetrical airfoil, designed to be built and flown as a 4 channel airplane. This can be the perfect aileron trainer for you. Crisp, yet docile, Can be built up with single or dual aileron servos. A perfect step up from the trainer wing. Can perform loops, rolls, inverted flight, and other basic maneuvers.

For fliers who can confidently fly the trainer wing.
Excellent aileron trainer Designed to be flown as a 4 channel with 1 or 2 aileron servos.
Basic aerobatics – Perform Loops, rolls, Cuban eights and more.
Casual Sunday airplane. Relaxed fun flying.
Expert Wing :

Fully Symmetrical , tapered wing

Fast and agile

Performs all aerobatic maneuvers
Ready to move on to the next step ? Fly inverted all day with this wing.

A fully symmetrical tapered airfoil allows the airplane to be flown fast, and can perform advanced pattern maneuvers like outside loops, four point rolls and even rolling circles with ease. Use this to develop and hone your aerobatic skills.

For fliers who can fly a 4 channel airplane, and are looking for an agile platform to learn and practise pattern maneuvers.
Learn, practise and perform advanced maneuvers like Hammerhead stalls, Outside loops and more.
Fly it Fast – This wing had minimal drag so allows the airplane to be flown fast.
Fly inverted like a Pro.
Product Note:
Color of coroplasts sheets used for our airplane, or parts may change as per the availability. Your kits shipped may be in a different colour than illustrated.Hot wiring CNC cutting on foam sometimes leads to fine lines on foam, as it is processed. These, in no way hinder or affect the quality of the finished product. These lines can easily be sanded out. Our Q/A process examines each wing core before they are packed and you can be assured that you will get only the best.
Additional information
| | |
| --- | --- |
| Weight | 3 kg |
| Electronics | No electronics, w/ Electronics package |