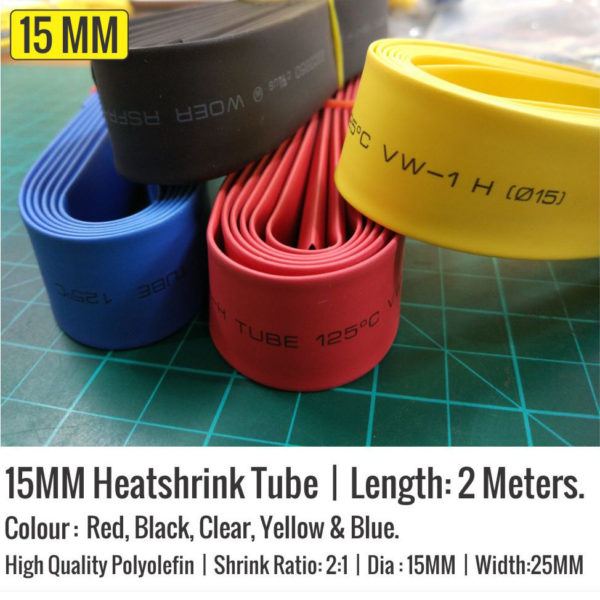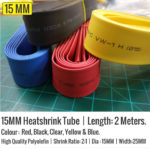 Polyolefin 15MM Heatshrink Tube Sleeve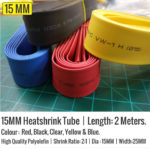 Polyolefin 15MM Heatshrink Tube Sleeve
₹129.00
₹129.00
Description
15MM Heatshrink Tube – 2 Meters
Polyolefin HeatShrink Tube – High Quality Heat Shrink sleeve Polyolefin Heat Shrink tubes are excellent for insulation. They have exceptional insulation characteristics, excellent stress control properties, long term weather and regular wear and tear resistance , ease of installation and reliable performance in even in harshest of the situations. These High performance 2:1 heat shrink material tubes, bundles, and protects cables, wire and hoses and can be used for a wide range of DIY applications. It is used extensively for cable and wire harnessing, strain relief, insulation, color-coding, identification and protection.
Simply a great way to create a Flexible, Heat Resistant and Waterproof tight joint. Just slide a slightly larger tube at the desired location and apply heat through a cigarette lighter or a heat gun for about 10 seconds and the tube will shrink down and will hold the joint tightly.
Primarily there are 2 types of HeatShrink Tubes available in the market:
PVC HeatShrink Tube: Made from PVC material, feels like plastic. These do get cracked and damaged with time. Not recommended for insulation.
Polyolefin HeatShrink Tube: Made from Polyolefin, Feels like rubber, Does not get cracked with time, works best for insulations and is being used in military, aerospace and railway industries, etc
We only sell High quality Polyolefin HeatShrink Tubes
We can provide longer continous lengths also and can provide discounts on bulk orders. Please contact us for the same.
Specifications :
Shrink Ratio: 2:1
Diameter of the tube before heat is applied: 15 MM
Length: 2 Meters
Color: Red/Black/Clear/Yellow/Blue
Material: Polyolefin
How to Use:
How to use heat shrink
Using a cigarette lighter to shrink the tubing
Using a hair dryer to shrink the tubing
Using a soldering iron to shrink the tubing
Resources:
Selecting the right size heat shrink
Reinforce iPhone Lightning Cable with Heat Shrink and Silicone will last WAY LONGER!
Fixing your iPhone charging cord with heat shrink tube